HUGE HIGH RISK AREA – Saturday Night – Moderate Risk Sunday in WI – Slight Risk in W. MI.
April 13th, 2012 at 2:46 am by
Bill Steffen
under
Bill's Blog
,
News
,
Weather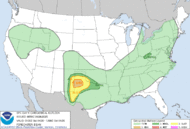 These are the Day 1, Day 2 and Day 3 severe weather outlooks from SPC.    Note:  The outlooks pictured here will change with SPC updates.    Click here for the current SPC outlooks.  Wow!  Over 100 tornadoes reported Saturday.   Major damage at the Wichita KS. airport, where the wind gusted to 84 mph!  A large tornado moved through south Wichita around 10 p.m. Saturday night.  There have been reports of significant damage.  McConnell Air Force base has hangar damage, and a building at the Spirit Aerosystem's plant has collapsed…you can see insulation hanging from power lines.  Major damage – hospital hit by tornado in Iowa.    EF2 tornado already Friday in Norman OK.  Twenty-One injuries were reported.  Another tornado hit Blair OK and there were reports of tennis ball-sized hail.   The Storm Prediction Center has had a HIGH RISK AREA out for Saturday for central Kansas and Oklahoma, S. Nebraska (just general thunderstorms for Michigan overnight – Slight Risk comes into W. Michigan Sunday).  They had a whopping 60% chance of severe out 2 days in advance!!  SPC says "…VERY FAVORABLE FOR SEVERE STORMS AND A TORNADO OUTBREAK…ENVIRONMENT SHOULD BE VERY FAVORABLE FOR SUPERCELLS AND TORNADOES. 0-3 KM STORM RELATIVE HELICITIES ARE FORECAST TO BE AROUND 400 M2/S2 WHICH IS IDEAL FOR STRONG TORNADOES…A HIGH RISK WILL BE ISSUED DUE TO THE POTENTIAL FOR A HIGH-END LIFE THREATENING EVENT.   People in and near Salina, Manhattan,  Wichita, Oklahoma City, Enid and Ponca City better take this seriously.  Keep coming back to the blog for updates.  This is only the 2nd time in history that a high risk area has been issued this far in advance.  This is also the 2nd high risk area of 2012…the last one was March 2 when there were 58 tornadoes and 41 fatalities.  There have been 92 days with a high risk area since 1984.  Here's a link to Chaser TV.    ALSO:  Check out this picture of lightning hitting the San Francisco Bay Bridge.