Weak El Nino
September 24th, 2012 at 8:00 am by
Bill Steffen
under
Bill's Blog
,
Weather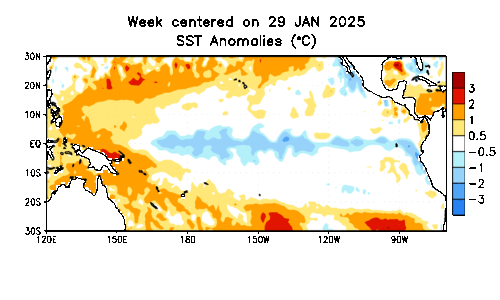 We have a weak El Nino as we head into the Autumn Season. You can see the slightly warmer than average water along the Equator in the central and eastern Pacific Ocean in the looping graphic. We've come out of a relatively strong and long La Nina into a weak El Nino. You can look at the list of La Nina months/years (in blue) and El Nino months/years (in red) here.   Which years do you think are most similar?  You can see there is some similarity to the very cold winter of 1976-77 when a deep trough covered much of the Eastern U.S. for much of the winter, along with strong blocking near Greenland/NE Canada.  Also, the latest JAMSTEC model forecast (for the central Pacific – Nino 3.4 region) has our El Nino fading to neutral about next August and then go back to La Nina (colder than average water along the Pacific Equator) for the late fall/winter/spring of 2014.
Our weekend cool pattern moderates early this work week and I think we're back to an overall dry and mild (not warm/hot) pattern for the next 8 or 9 days.  After that we probably go back to a cooler and wetter pattern with the mean upper-level trough back over the Great Lakes.  (Graphic from the Climate Prediction Center).    Final note….windy this midday/PM with gusts up to 30-40 mph.
Also:  Here's a nice MODIS satellite picture of the East Coast from earlier this month and a picture of smoke from forest fires in Washington and Idaho.