Monday Night
October 22nd, 2012 at 2:52 am by
Bill Steffen
under
Bill's Blog
,
Weather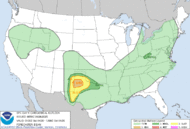 11:45 PM -  Solid line of t-storms from Lansing to Marshall to Benton Harbor…lightning, brief heavy rain and gusts to 30 mph in Kalamazoo and Battle Creek.   There is "training" of showers/t-storms along and south of I-94, where some higher rainfall totals are likely.   Holland had 1.72″ in the  2 hours, and 2.10″ total.  Holland has had 6.25″ of rain this month…ought to help with the low water level of Lake Michigan.   Grand Rapids (airport) up to 1.11″  Hudsonville 1.16″, 0.84″ Allendale, 1.42″ Boatwerks in Holland, 0.98″ downtown G.R., 0.77″ Grand Haven, Jenison 0.79″, Muskegon 0.63″.   Bears win 13-7 over the Lions…very little Lions offense.  First World Series game in SF Wednesday evening.
The Tuesday morning NAM (caribou) rainfall forecast is 0.01″ Tue. AM, 0.10″ Tue. PM and 0.34″ Tue. night.   It gives us 71 for a high on Tue., 73 on Weds. and 75 on Thurs.
It was 78 in St. Louis Sunday aftn. and 81 at St. Joseph MO, so there is some warm air coming our way.  There is some really cold air lurking in the Canadian Rockies.  Calgary had an afternoon high of 26F and Grand Cache had a high of 19F.  In the Arctic areas of Canada, Resolute had a high/low of 14/2 on Sunday.  Alert in far northern Canada has had an average high temperature of +1.2F this month so far with the warmest temperature this month of +16F.  The European model overnight run gives G.R. 1.09″ from mid-afternoon today (Mon.) thru Tuesday night and another 0.46″ from Thurs. night thru Friday night.  The GFS gives us 0.95″ of rain from Monday mid-afternoon thru Tuesday evening with more rain Tues. AM instead of Monday night.  The GFS also gives us highs in the 70s Wed. and Thu. but only low-mid 40s on Saturday.  It would be borderline for snow showers Sunday/Monday.
Now, go here to the National Hurricane Center.  We now have Tropical Storm "Sandy", which will eventually become hurricane Sandy.   It's forecast to continue north, as a low-end hurricane or strong tropical storm, sending lots of wind and rain up the East Coast from North Carolina northward.  It should stay far enough east of Florida that only some heavy rain is a concern.   The storm is likely to have a large circulation and Michigan will be on the far west side of that.  That means a cold NW flow out of Canada and some chilly, gusty winds.  How cold can it get? Can it get cold enough for lake-effect snow?  That's still on the table, though certainly not probable at this point.  The European model has highs Sunday in the mid-upper 40s.  The 850mb temperature (about a mile above the ground) is down to 24F Sunday evening with surface air around 40F.  With a little colder air on Monday, that could mean some snow showers and there's even a possibility of accumulating snow if the overnight European model is right.  The model has backed off that scenario some today.  This could be a very significant storm for the Mid-Atlantic states/eastern Great Lakes northward.  Stay tuned for updates here on the blog.  As I've said before, November looks like a cool month with several days of shovelable (is that a word?) possible.
Gayle and I drove to Benzie Co. for a Sunday drive to enjoy the sunny/partly cloudy day and what's left of the fall colors and to go to the Benzie Co. orchestra fall concert.  The fall colors were past peak, but still very nice.  We stopped at a McDonald's and I ordered a pumpkin pie.  We drove to a park overlooking a lake and I found out I got cherry pie…but it was very good, no complaint…a nice snack with some water we brought along.  The concert was in the auditorium of Benzie High School and it was overflow.  Every seat was taken and about 75 were left standing.  They eventually brought out some folding chairs to put in the back where there was a little room.  My daughter 3 from Traverse City and her husband came down here and stayed at our house so they could run the Grand Rapids Marathon (they did the half marathon).  Daughter 1 is off to do some exercise training in S. Carolina.  She is now NIKE certified.  She just got back from the big exercise convention in Las Vegas, where she got the stage for 5 minutes to show off her program.  She also got a nice write-up in SELF Magazine.  Daughter 2 is getting some new wheels.
Here's WOOD-TV Interactive Radar, looping radar. Check out the current conditions, regional radar, GRR radar, northern Indiana radar, Chicago radar and Milwaukee radar. Here's the College of DuPage Radar Map, Storm total rainfall, the local warning/advisory map and the National warning/watch/advisory map. You can checkout the latest Grand Rapids NWS discussion, the Northern Indiana NWS discussion (includes the Michigan Counties that border Indiana), the discussion for Northern Lower Michigan, and Eastern Lower Michigan. Here's the Spyglass Condos Weather Station the S. Haven GLERL station, the Muskegon GLERL station, the Grand Haven Steelheaders webcam and weather station, and the weather station at Holland State Park. Check out the WOOD lightning tracker and U.S. lightning and links to webcams. Here's the infrared satellite loop (night) and the visible satellite loop (daytime). Here's Lake Michigan water temperatures. Here's storm total rainfall for W. Michigan and E. Michigan. Here's data from the mid-lake buoy.