Wednesday
October 23rd, 2012 at 4:15 am by
Bill Steffen
under
Bill's Blog
,
Weather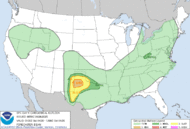 Most of the storms will be west of us today.  Our best chance of more showers and storms will be with the cold front after sunset on Thursday.  48-hour rainfall:  2.54″ Holland, 1.58″ Grand Rapids (airport), 1.47″ Benton Harbor, 1.25″ Muskegon, 0.91″ Kalamazoo, 0.88″ Lansing, 0.83″ Battle Creek.  Rainfall today:  0.71″ Boatwerks in Holland, 0.60″ Grand Haven, 0.34″ WOOD-TV in G.R.   Monthly rainfall:  6.6″ Holland, 5.57″ Muskegon, 5.44″ Grand Rapids, 4.60″ Kalamazoo, 4.58″ Battle Creek, 3.99″ Lansing.   Rainfall for the year (and departure from average).  Grand Rapids 29.63″ (-1.78″), Kalamazoo 25.13″ (-4.76), Battle Creek 22.13″ (-5.41″), Muskegon 26.84″ (+0.08″) S. Bend 30.32″ (0.96″).
The latest Euro.  gives G.R. 0.38″ of rain Thurs. evening/night with the cold front.  The Canadian, FIM and GFS keep Hurricane Sandy well offshore of the U.S. with just a glancing blow of gusty winds and rain for SE Florida and perhaps the Outer Banks of N.C.  The European model still drives it into New York and New England.  The circulation of Sandy will still help to bring some chilly air down into the eastern half of the U.S.  The NAM (Caribou) gives G.R. a high of 78 on Weds. and 75 on Thurs.  The Euro. has temperatures at least into the low 70s Weds (mid 70s south) and mid 70s on Thursday…then low 50s on Friday and temperatures cool a little each day into early next week.  The airmass coming in starting Friday is dry, so any clouds, precipitation will have to be from Lake Michigan.  We only go to -4.2C at 850mb now, with the hurricane/tropical storm farther east, not the -8C that was earlier forecast Look for a hard freeze over much of the area Sunday morning and/or Monday morning.  It'll be cool, but not outrageously cold for late October.
Here's WOOD-TV Interactive Radar, looping radar. Check out the current conditions, regional radar, GRR radar, northern Indiana radar, Chicago radar and Milwaukee radar. Here's the College of DuPage Radar Map, Storm total rainfall, the local warning/advisory map and the National warning/watch/advisory map. You can checkout the latest Grand Rapids NWS discussion, the Northern Indiana NWS discussion (includes the Michigan Counties that border Indiana), the discussion for Northern Lower Michigan, and Eastern Lower Michigan. Here's the Spyglass Condos Weather Station the S. Haven GLERL station, the Muskegon GLERL station, the Grand Haven Steelheaders webcam and weather station, and the weather station at Holland State Park. Check out the WOOD lightning tracker and U.S. lightning and links to webcams. Here's the infrared satellite loop (night) and the visible satellite loop (daytime). Here's Lake Michigan water temperatures. Here's storm total rainfall for W. Michigan and E. Michigan. Here's data from the mid-lake buoy.