A Rumble of Thunder, Anyone?
December 1st, 2012 at 2:05 am by
Bill Steffen
under
Bill's Blog
,
Weather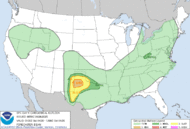 As I write this, the Storm Prediction Center has W. Michigan in a relatively small thunderstorm outlook for later on today/tonight. It's pretty iffy. Here's the discussion.  In 1982 we had a very warm start to December with highs of 59,67,63,50,63,47.  I remember seeing a perfect thunderstorm anvil in the morning looking west out over Lake Michigan.  We had 3.68″ of rain in those first six days of Dec. 1982.  Later we were 65 on Christmas Day (I picked a blooming dandelion from my front lawn that morning) and we were 61 on the 28th.   Later we had the 7 consecutive record high temperatures from March 1 – 7, with a high of 72 on March 3.  We had only 36.2″ of snow that winter and the snowiest 24-hours was 8″ on March 20-21 right at the Spring Equinox.
Here's some facts about the 2012 Atlantic Hurricane Season and pictures of the record snowfall in Moscow.  There's 18 people missing after an avalanche in Kashmir.  Here's a summary of Hurricane Sandy.