Thunderstorm Risk in Ohio Valley and South (and more)
December 14th, 2012 at 10:26 pm by
Bill Steffen
under
Bill's Blog
,
Weather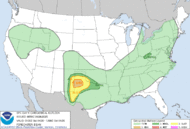 These are the general thunderstorm outlooks for Day 1, Day 2 and Day 3.  The thunder is expected to stay to our south.  We'll see showers develop on Saturday with a good chance of more showers on Sunday. Check out the GRR NWS discussion.  I'm in Ohio right now…hope Saturday evening.  Two beautiful sunny days around 50 with calm conditions in Oak Ridge.  We had fog and think frost in the early AM.  I spotted several blooming dandelions and one small daisy.
Check out these links: to the current conditions, regional radar, GRR radar, northern Indiana radar, and Chicago radar and Milwaukee radar. Here's the local warning/advisory map and the National warning/watch/advisory map. You can checkout the latest Grand Rapids NWS discussion, the Northern Indiana NWS discussion (includes the Michigan Counties that border Indiana), the discussion for Northern Lower Michigan, and Eastern Lower Michigan. Here's the Spyglass Condos Weather Station the S. Haven GLERL station, the Muskegon GLERL station, the Grand Haven Steelheaders webcam and weather station, and the weather station at Holland State Park. Check out the WOOD lightning tracker and U.S. lightning and links to webcams. Here's the infrared satellite loop and the visible satellite loop (daytime). Here's Storm Total Rainfall…Regional Radar, SPC Mesoscale Discussions…and Current Severe T-Storm Watches.
We made 50 for a high on Friday, but it was only 33 at Gaylord.  Snow cover Friday AM: 3″ at Houghton Lake  4″ Marquette, Ste. S. Marie, Alpena, Ishpeming and Grand Marais with 5″ at Newberry.