Christmas Severe Weather Outbreak
December 24th, 2012 at 5:45 pm by
Bill Steffen
under
Bill's Blog
,
Weather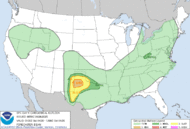 This is a very early winter Moderate Risk Area for severe weather area from the Storm Prediction Center for Christmas Day/Night and for Wednesday.  SPC says:  "A SUBSTANTIAL SEVERE WEATHER THREAT WILL BE POSSIBLE ON TUESDAY AND TUESDAY NIGHT ACROSS A BROAD CORRIDOR FROM SE TX EXTENDING ENEWD ACROSS LA…MS …AL AND INTO THE FL PANHANDLE."  The main threat would be wind damage along a line of thunderstorms (squall line).  If you know someone down south on vacation, you might want to make them aware of the potential for windy thunderstorms.  The maps are the severe weather outlooks for Day1 and Day2.
So far, 33 tornadoes have hit the south, including Beaumont and Crockett TX.  Four storm-related fatalities have been reported there.  Numerous injuries were reported in Ball, LA, and damage occurred at Madisonville TX.  There are at least five places where there are injuries.   Winds hit 72 mph at Jackson MS, where the wind blew over the fence at the National Weather Service Office.  Also, Hilo HI reports 4.18″ of rain.
ALSO:  A rare double lunar halo.