Wednesday Night
January 9th, 2013 at 3:54 am by
Bill Steffen
under
Bill's Blog
,
Weather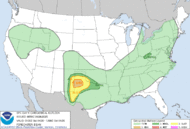 Peak Wind gusts Weds:  48 mph Lansing, 44 mph East Gr. Rapids High School, 43 mph Ford Airport in G.R., Ionia and Battle Creek, 41 mph Holland Beach, 40 mph Muskegon Beach, 38 mph Holland Regional Airport, 36 mph Kalamazoo and S. Haven beach, 35 mph Muskegon Airport, Alma and Mt. Pleasant, 33 mph Fremont.  I did the weather from Rosa Park Circle this evening.  The ice was nice – they can hold it up fine on a day like today…though they'll have trouble with the rain and 50 degrees.  It's cheap…2 bucks for adults and a buck for kids and they have skates for you.  Lots of pretty LED lights around the rink and plenty of places to warm up and get a bite to eat.  Rain moves in from south to north eatsly tomorrow night.  SPC says there is a chance of a rumble of thunder up to at least the Indiana border (see map).  For current Michigan weather observations and wind speeds, click here. You can check out the S. Haven Lighthouse, the Spyglass Condos Weather Station by the Holland Channel, the Muskegon beach (when the wind is in knots – kts. – multiply by 1.15 to get mph), and the beach at Michigan City, Indiana. Snow cover as of 12/28 AM: 12″ Grand Marais, 14″ Marquette, 14″ Gaylord, 10″ S. Ste. Marie, 7″ Cadillac, 6″ Lake City, 4″Alpena, Houghton Lake and Baldwin, 2″ near Big Rapids, Lansing, Grandville and the Ford Airport in G.R. Here's NAM model snowfall thru 84 hours, the GFS snowfall thru 120 hours and the HPC snowfall predictions. Here's WOOD-TV Interactive Radar, looping radar. Check out the current conditions, regional radar, GRR radar, northern Indiana radar, Chicago radar and Milwaukee radar. Here's the College of DuPage Radar Map, Storm total rainfall, the local warning/advisory map and the National warning/watch/advisory map. You can checkout the latest Grand Rapids NWS discussion, the Northern Indiana NWS discussion (includes the Michigan Counties that border Indiana), the discussion for Northern Lower Michigan, and Eastern Lower Michigan. Here's the Spyglass Condos Weather Station the S. Haven GLERL station, the Muskegon GLERL station, the Grand Haven Steelheaders webcam and weather station, and the weather station at Holland State Park. Check out the WOOD lightning tracker and U.S. lightning Marantha Webcam at Lake Michigan and links to webcams. Here's the infrared satellite loop (night) and the visible satellite loop (daytime). Here's Lake Michigan water temperatures. Here's storm total rainfall for W. Michigan and E. Michigan. Here's data from the mid-lake buoy (not available in winter) and the Wind Map. And…here's the 84-hour NAM snowfall amount forecast for W. Michigan and the 120-hour GFS snowfall amount forecast. Here's local storm reports from Iowa, Western Wisconsin, Eastern Wisconsin, and northern Michigan. Check out these webcams and the Snowman Cam from Gaylord. Here's a few pictures of the last snowstorm.
Model update:  GFS has 54 for a high for both Fri. and Sat., Nam has 49.  Euro. would also take us to about 54 Friday and 52 Saturday.  The Euro. has 0.76″ of rain Thurs. night/Fri. AM and a little snow for next Tue. Night/Weds.  The NAM Caribou has the least rain at 0.30″ The GFS has 0.84″, then another 0.22″ next Tuesday, which would be 2 1/2 to 3″ of snow if that's right.  Temperatures get back much closer to average next week (31/19).
ALSO:  Rain, flooding, wind and snow in the Middle East.  4-day rainfall:  2.41″ Jerusalem, 4.96 Beruit, 1.38″ Damascus, 4.88″ Tel Aviv.  Amman, Jordan had 2.28″ just on Jan. 7th.  Snow has closed schools in the highest elevations of Israel and Lebanon.  In the last 4 days it hasn't been warmer than the low 50s in Jerusalem.  Heavy snow and cold have gripped Greece and Turkey.