Severe Weather Threat – updated 3:30 AM Weds.
April 18th, 2013 at 1:09 am by
Bill Steffen
under
Bill's Blog
,
Weather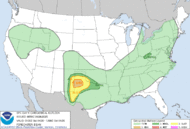 These are the Day 1 and Day 2Severe Weather Outlooks from the Storm Prediction Center.  Parts of S. Michigan are included in the Thursday outlook and there is a moderate risk are for today SE of Grand Rapids.  SPC keeps moving the Risk Area is from Lake Huron to the Gulf of Mexico.   Bouncing around facebook and weather websites, a lot of storm chasers will be out today, including four of our local chasers.  SPC says:  "ERN TX TO LOWER MI – TSTMS WILL ORGANIZE INTO AN EXTENSIVE SQUALL LINE ALONG THE COLD FRONT WITH MCS EXPECTED TO EXTEND FROM NRN IL…SWWD ACROSS MO INTO NERN TX AT SUNRISE.   LATEST THINKING IS EARLY MORNING SQUALL LINE WILL REMAIN ORGANIZED AS IT SURGES EWD.  THERE IS REASON TO BELIEVE BOW-TYPE STRUCTURES COULD EVOLVE ALONG THE SQUALL LINE GIVEN THE FAVORABLE SHEAR…IN ADDITION TO EMBEDDED SUPERCELLS THAT COULD PRODUCE ISOLATED TORNADOES.  IF MODELS CONTINUE TO DEPICT SUFFICIENT BUOYANCY THERE MAY BE AN ENHANCED RISK OF AN EXTENSIVE DAMAGING WIND EVENT WITH THIS ELONGATED CONVECTIVE COMPLEX.  WILL MAINTAIN 30 PERCENT SEVERE PROBS BUT THERE IS SOME CONCERN THIS MAY NEED TO BE UPGRADED IN LATER OUTLOOKS.".
Here's what the GRR NWS said:  "UPPER LEVEL DYNAMICS WITH THIS SYSTEM ARE IMPRESSIVE…AS WELL AS VERY STRONG UPPER LEVEL WINDS  SUPPORT POTENTIAL FOR A FEW TORNADOES. THIS IN ADDITION TO LARGE  HAIL AND STRONG WIND THREATS. THE GREATEST POTENTIAL FOR SEVERE WX  SHOULD COME THURSDAY AFTERNOON THROUGH THURSDAY EVENING
"    Check out Regional radar to see the rain across the Great Lakes. Here's GRR radar, local lightning data, meso-discussions and current watches from SPC and a satellite loop. Here's current Michigan temperatures. Here's National lightning data. Here's the latest discussion from GRR NWS. Here's National Storm Reports for today and yesterday.