Severe Threat Thursday Night
May 9th, 2013 at 2:24 am by
Bill Steffen
under
Bill's Blog
,
Weather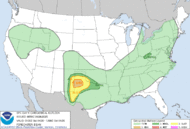 These are the Day 1, Day 2 and Day 3 Severe Weather Outlooks from the Storm Prediction Center. They've pulled the outlook back to just south of the Michigan/Indiana border.
Here's what SPC says:  "MODELS SUGGEST THE TSTM POTENTIAL AND ANY ATTENDANT SEVERE WEATHER THREAT SHOULD BE DIURNAL."   With the storms not reaching Michigan until late evening, the severe threat in Michigan is diminished.
" Check out Regional radar to see the rain across the Great Lakes. Here's GRR radar, local lightning data, meso-discussions and current watches from SPC and a satellite loop. Here's current Michigan temperatures. Here's National lightning data. Here's the latest discussion from GRR NWS. Here's National Storm Reports for today and yesterday.