Chance of Severe Storms
May 27th, 2013 at 7:15 am by
Bill Steffen
under
Bill's Blog
,
Weather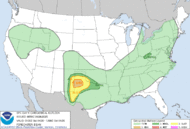 This is the current Day 1, Day 2 and Day 3 severe t-storm outlook from the Storm Prediction Center. After a quiet few days, things are going to get more interesting, with several chances for strong to even severe storms this week.  If things get rolling, they may have to bump up N. KS, S. NE and maybe NW MO and SW IA into a moderate risk for today.  Part of that area has seen a lot of rain.  The west side of Sioux City IA had 6.6″ of rain and Grinnell, IA had 5.7″.  Here's what SPC says about Tues. PM:  "POSSIBILITY FOR A FORWARD PROPAGATING MCS AS IT MOVES TOWARDS THE SRN GREAT LAKES."
Check out the GRR NWS discussion and the latest surface map.
Check out Regional radar to see the rain across the Great Lakes. Here's GRR radar, local lightning data, meso-discussions and current watches from SPC and a satellite loop. Here's current Michigan temperatures, National lightning data and the latest discussion from GRR NWS. Here's National Storm Reports for today and yesterday. Here's a live pic. of the beach at Grand Haven, Here's the latest Grand Rapids NWS discussion.
RED WINGS WIN, 4-1. They have a 2-1 game lead on Chicago heading into game 3.