Severe Weather Outlook Areas
May 28th, 2013 at 11:04 am by
Bill Steffen
under
Bill's Blog
,
Weather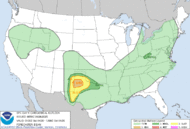 These are the current Day 1, Day 2 and Day 3 severe t-storm outlook from the Storm Prediction Center. Click the links below for the latest from the Storm Prediction Center and the
Check out the GRR NWS discussion and the latest surface map.
Check out Regional radar to see the rain across the Great Lakes. Here's GRR radar, local lightning data, meso-discussions and current watches from SPC and a satellite loop. Here's current Michigan temperatures, National lightning data. Here's National Storm Reports for today and yesterday. Here's a live pic. of the beach at Grand Haven,
Good Luck to the Red Wings in Game 7 – It's been a great run to this point.