Severe Risk Weds. PM
June 12th, 2013 at 10:33 am by
Bill Steffen
under
Bill's Blog
,
News
,
Weather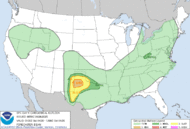 Here's NAM model precipitation…heaviest SW corner of Lower Michigan down into Indiana.  At 11 AM, warm front is Moline IL to Fort Wayne IN.  Watch for tornadoes as the storms start late aftn. along and just north of the front in N. Illinois.  Wind damage threat greatest nearer the front (so south of Holland to Ann Arbor).  Low 70s dew points south of the front.  Lots of fuel for the fire.    The 7:20 AM update from the Storm Prediction Center now has the Moderate Risk up to the Michigan-Indiana border.  The Moderate Risk covers much of IL, IN, OH.  The Slight Risk Area comes north to a line from Muskegon to Flint. The likelihood of a severe weather report within 25 miles of a single location in the moderate risk area is 45% for wind, 30% for hail and 10% for tornado.  Here's SPC TORNADO RISK (highest in N. Illinois), DAMAGING WIND RISK (highest N. IL, N. IN, NW Ohio), and HAIL RISK (size of hail is always a concern, but wind-driven, smaller-size hail is also a concern…force = mass x velocity x velocity…the faster an object is traveling, the more force it has).   The Storm Prediction Center says:
"Widespread Damaging Winds…Large Hail and a Few Tornadoes Expected across a Large Area from Iowa to West Virginia.  Iowa, Illinois and S. Wisconsin Early Afternoon into Indiana, Ohio, N. Kentucky and far Southern Michigan during the Evening.  Increasing wind fields will favor a forward propagating convective system…possibly a DERECHO CAPABLE OF WIDESPREAD DAMAGING WINDS.  Embedded areas of rotation may also exist periodically…indicating either TORNADOES or ENHANCED AREAS OF DAMAGE WIND POTENTIAL.  LARGE HAIL IS ALSO LIKELY, POSSIBLY WIND DRIVEN."   7:20 AM update:  "…Highest severe probabilities and the most significant severe weather potential still appears focused in a corridor across E. Central IA into N. Illinois late this afternoon, into N. Indiana and W. Ohio later tonight." 
Accu-Weather talking about a DERECHO from Chicago to Pittsburgh.  #derecho on Twitter.
Here's the RPM rainfall prediction, showing the t-storms getting north into the G.R. area.
Check out the GRR NWS discussion and the latest surface map.   If I were storm chasing…I'd start along the MIssissippi south of Dubuque, north of Moline…then east along I-80 to NW Indiana…then to Fort Wayne to Findley OH.
Check out Regional radar to see the rain across the Great Lakes. Here's GRR radar, local lightning data, meso-discussions and current watches from SPC and a satellite loop. Here's current Michigan temperatures, National lightning data and the latest discussion from GRR NWS. Here's National Storm Reports for today and yesterday. Here's a live pic. of the beach at Grand Haven, Here's the latest Grand Rapids NWS discussion.