Severe Weather Risk
June 21st, 2013 at 10:36 am by
Bill Steffen
under
Bill's Blog
,
Weather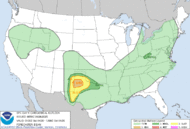 These are the SPC Severe Weather Risk Areas for today, tomorrow and the next day.  We are in the General Thunderstorm Outlook for the next several days, with the severe threat continuing from Wisconsin back into the Plains.  Check out the radar of the t-storm complex that has come thru MN and WI.
There was a "wake low" that caused strong E-SE winds across parts of N. Wisconsin.  Antigo's wind is SE 29G38 at 11 AM EDT Friday.   There have been some extremely heavy rains over the past 48-hours from NW Wisconsin and the U.P. back to eastern Montana.  Just in the last 24 hours:  6.85″ near Benson MN, 6.45″ Gordon WI, 6.3″ in four hours at Valley City ND,  4.20 Long Prairie MN, 4″ Melrose MN, 3.45 near Brainerd MN, 1.95″ Minneapolis, 1.81″ Duluth, 1.62 Twin Lakes MI, 1.28″ Watersmeet MI.  Up to 4″ of rain fell near Browning, MT and   Tropical Storm Barry produced up to 10″ of rain near Jalapa and Tuxpan, Mexico – on the east coast.  Heavy flooding and a State of Emergency in Calgary, Alberta – hundreds evacuated.
Check out the GRR NWS discussion and the latest surface map. Check out Regional radar to see the rain across the Great Lakes. Here's GRR radar, local lightning data, meso-discussions and current watches from SPC and a satellite loop. Here's current Michigan temperatures, National lightning data and the latest discussion from GRR NWS. Here's National Storm Reports for today and yesterday. Here's a live pic. of the beach at Grand Haven, Here's the latest Grand Rapids NWS discussion.