Severe Risk Friday PM/Night
July 19th, 2013 at 2:09 am by
Bill Steffen
under
Bill's Blog
,
Weather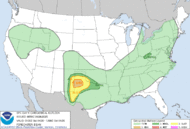 That's a truck that was tipped over on the Mackinac Bridge due to high winds from a thunderstorm.  Click here for a better picture (thanks to Kristi Steffen).   One estimate put the winds on the bridge at 75 mph!  Mackinac Island had a gust measured to 58 mph.  There were trees down on the island and screens ripped off windows.  Here's some facts about the Mackinac Bridge.  It's 199 feet from mid-bridge to the water below.    Friday AM Update:    All of Lower Michigan, E. Wisconsin, NE. Illinois, N. Indiana and NW. Ohio are in the Slight Risk Area for this Friday.  SPC says:  "FORECAST SOUNDINGS ACROSS PORTIONS OF LOWER MI SUGGEST CONVECTIVE TEMPERATURES…NEAR 90F…SHOULD BE REACHED AND WITH LOW LEVEL FRONTAL CONVERGENCE SCT THUNDERSTORMS ARE EXPECTED BY 19Z (3 PM). DEEP WLY FLOW AND SFC-6KM BULK SHEAR ON THE ORDER OF 25KT FAVOR ORGANIZED MULTI-CELL UPDRAFTS AND PERHAPS EVEN WEAK SUPERCELLS…THROUGH ENVIRONMENTAL SHEAR FAVORS LINE SEGMENTS. DAMAGING WINDS AND HAIL ARE THE PRIMARY THREATS WITH THIS ACTIVITY.   Check out the probability of severe weather map (above on the right).  It shows a healthy 30% chance of severe (winds) within 25 miles of a certain point centered from Chicago to G.R. to the Thumb area.
We've had a very warm night.  Our statistician, Andy Schut found that we have only had 36 days in G.R. history (back to the late 1800s) when we had a low temperature of 77 or higher, 25 times at 78 and higher, only 9 times 79 or highs and only twice has the temperature midnight-to-midnight failed to get below 80 (81 on 7/14/1995 and 82 on 7/5/1902).  However, our lowest temperature midnight-to-midnight will likely come after the storms before midnight.  We'll turn a little cooler and less humid over the weekend.  We'll be dry for the weekend with a chance of a shower/storm next Monday night or Tuesday.
Check out the GRR NWS discussion and the latest surface map. Check out Regional radar to see the rain across the Great Lakes. Here's GRR radar, local lightning data, meso-discussions and current watches from SPC and a satellite loop. Here's current Michigan temperatures, National lightning data and the latest discussion from GRR NWS. Here's National Storm Reports for today and yesterday. Here's a live pic. of the beach at Grand Haven, Here's the latest Grand Rapids NWS discussion.