Chance Thunderstorm this Weds.
August 6th, 2013 at 3:10 am by
Bill Steffen
under
Bill's Blog
,
Weather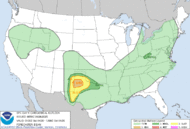 The Storm Prediction Center has the area southeast of a line from Cassopolis to Saginaw in the Slight Risk Area for the possibility of isolated severe weather. (radar)  Weds. evening will be dry.     (Daytime) Satellite Loop here .  We had a high temperature of 78 in G.R.  on Tues. and that makes 14 days in a row below 80-degrees.  Today, could be our first 80-degree day (in G.R.) in half a month.
Monday's Severe Weather Reports included a 100 mph wind gust at Pratt KS.   Here's lightning behind a shelf cloud from an approaching strong thunderstorm in Saskatchewan, Canada…and…check out this cool "triple-play" cloud-ground lightning hit yesterday in Montana.
Check out the GRR NWS discussion and the latest surface map. Check out Regional radar to see the rain across the Great Lakes. Here's GRR radar, local lightning data, meso-discussions and current watches from SPC and a satellite loop. Here's current Michigan temperatures, National lightning data and the latest discussion from GRR NWS. Here's National Storm Reports for today and yesterday. Here's a live pic. of the beach at Grand Haven, Here's the latest Grand Rapids NWS discussion.