Storms Weds. Night
August 21st, 2013 at 2:24 pm by
Bill Steffen
under
Bill's Blog
,
Weather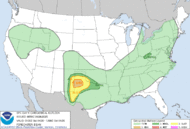 Mesoscale Discussion out for W. Michigan!!   T-Storm popped up fast on the shore in Oceana Co.  Already showing 43,000 foot top and 1″ hail aloft!  WOW!!  Slight Risk  Area snow extended into W. Michigan north of Muskegon!!   Check out the satellite loop of the storms in Wisconsin and the U.P.  One more quick link:  When the forecaster realizes "Small Craft Advisories" just won't cut it.   The Storm Prediction Center has most of Wisconsin and a portion of NW Lake Michigan in the Slight Risk Area for isolated severe storms this PM and night.  There's a Severe Thunderstorm Watch for much of the U.P. and northern Wisconsin.   Lots of hail reports in the U.P. during the mid-late afternoon.   We'll stay dry this evening, but we will have a chance of a shower or t-shower after about 1 AM.  The storms in Wisconsin will likely weaken because of the time of day, so severe weather is unlikely here in W. Michigan.  I have the chance of rain at 60%.  We really need it.   The morning runs of the computer models printed out:  0.07″ for G.R. from the GFS-plot, 0.24″ from the NAM and the European also has 0.07″ for G.R.   Many of us will be dry both Weds. and Thurs. evening.  It looks like the next 2 weekends should have decent outdoor weather.  More on TV tonight.
Also, the high temperature at Moosinee, Ontario way up on James Bay was 90 yesterday.  At the same time it was 10 degrees cooler (80) at Key West, Florida.  Here's nice pic. of a thunderstorm and the full moon in Florida.
Check out the GRR NWS discussion and the latest surface map. Check out Regional radar to see the rain across the Great Lakes. Here's GRR radar, local lightning data, meso-discussions and current watches from SPC and a satellite loop. Here's current Michigan temperatures, National lightning data and the latest discussion from GRR NWS. Here's National Storm Reports for today and yesterday. Here's a live pic. of the beach at Grand Haven, Here's the latest Grand Rapids NWS discussion.