Friday
August 30th, 2013 at 12:38 pm by
Bill Steffen
under
Bill's Blog
,
Weather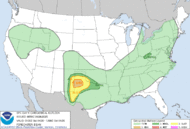 1:00 PM – Just got back from a funeral, our neighbor from 2 doors down. He was 96, a former school supt. Tomorrow we have a wedding to go to.  I see SPC has upgraded to a Slight Risk Area for much of S. Lower Michigan.  SPC says:  "EXPECT ONGOING STORMS ACROSS NRN LOWER MI TO INCREASE…EXPANDING SWWD ALONG THE FRONT ACROSS LOWER WI AND INTO IA BY AFTERNOON — ALONG WITH AN ASSOCIATED INCREASE IN STORM INTENSITY WITH TIME. THOUGH DEEP-LAYER FLOW WILL REMAIN SOMEWHAT MODEST — WITH ONLY 25 KT LOWER AND MID-TROPOSPHERIC WNWLYS ACROSS THE REGION…SHEAR WILL BE SUFFICIENT IN CONJUNCTION WITH ANTICIPATED MODERATE DESTABILIZATION TO SUPPORT SOME SEVERE RISK WITHIN STRONGER CELLS/CONVECTIVE CLUSTERS. GIVEN EXPECTED DESTABILIZATION AND HI-RES CONVECTION-ALLOWING MODELS ALL SUPPORTING THE AFOREMENTIONED SCENARIO…UPGRADE TO 15% HAIL AND WIND PROBABILITY/SLIGHT RISK FORECAST APPEARS WARRANTED FOR THE EXPECTED AFTERNOON/EVENING MAXIMUM IN CONVECTIVE INTENSITY."
We'll have a chance of a shower or t-storm today and tonight (best time evening). The models don't give us much rain (only 0.02″ on the European), but with humid air, any showers and storms that do develop will likely have some brief heavy rain.  Saturday looks dry.  The next from may (not will, but may) bring us a shower or t-shower Sunday PM/Night.  Most of Monday, all of Tuesday and most of Wednesday look dry.  A shower or t-storm may accompany the next front about Weds. PM or night.  The European is colder with the air behind that front (taking the 850mb temp. to 4.3C with low temperatures Thurs. AM in the mid-upper 40s.  The GFS is warmer.   I've said before than I think Sept. is 1 to 2 deg. warmer than average in W. Michigan.   I'm back at work for the evening shift today (Fri.) and Sunday.
Record highs Thurs:  105 McCook NE, 93 Cut Bank MT and 74 at Eureka CA.  On the other hand, more snow for northern Alaska.
For Michigan weather observations and wind speeds, click here. Here's WOOD-TV looping Radar. Check out regional radar, GRR radar, northern Indiana radar, Chicago radar and Milwaukee radar. Here's the College of DuPage Radar Map (pick any radar in the U.S.), College of DuPage Grand Rapids radar, the local warning/advisory map and the National warning/watch/advisory map, and a surface weather map. You can checkout the latest Grand Rapids NWS discussion, the Northern Indiana NWS discussion (includes the Michigan Counties that border Indiana), the discussion for Northern Lower Michigan, and Eastern Lower Michigan. Check out Storm Total Rainfall (until they reset it). Here's the Spyglass Condos Weather Station the S. Haven GLERL station, the Muskegon GLERL station, the Grand Haven Steelheaders webcam and weather station, and the weather station at Holland State Park. Check out the WOOD lightning tracker and U.S. lightning, the Maranatha Webcam at Lake Michigan and links to webcams. Here's the infrared satellite loop (night) and the visible satellite loop (daytime), Lake Michigan water temperatures. Here's storm reports from SW Michigan, Northern Michigan, NE Illinois, SE. Wisconsin, Upper Michigan and E. Michigan.