Very Little Severe Weather
September 20th, 2013 at 4:15 am by
Bill Steffen
under
ArtPrize
,
Bill's Blog
,
Weather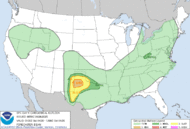 The only report of severe weather in the U.S. on Friday was a report of roof damage and some trees down 9 miles southeast of Natchez, Mississippi.   The t-storms that crossed NW Ohio were not severe.  General thunderstorms today (Sat.) for the East Coast and especially down south, where heavy rain could fall from SE Texas to S. Carolina.  There will also be isolated storms in the Pacific NW and the Intermountain Region.
BTW, a "See Text" means that there is a 5% chance of a severe report within 25 miles of a given location. The Slight Risk area says there is a 15% chance of a severe report within 25 miles of a given point in the outlined area. The main threat in the risk areas is isolated wind damage.
Check out the GRR NWS discussion and the latest surface map. Check out Regional radar to see the rain across the Great Lakes. Here's GRR radar, local lightning data, meso-discussions and current watches from SPC and a satellite loop. Here's current Michigan temperatures and National lightning data. Here's National Storm Reports for today and yesterday. Here's a live pic. of the beach at Grand Haven.
Add:  Taiwan radar to follow typhoon Usagi.,.will probably come ashore on the mainland just north of Hong Kong.  Here's a satellite loop showing the eye of the storm passing by the south tip of Taiwan.    Also, nice valley fog picture from Pennsylvania Fri. AM.