Severe Storms Sunday!
November 14th, 2013 at 3:42 pm by
Bill Steffen
under
Bill's Blog
,
Weather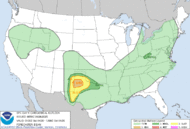 These are the severe weather outlooks from the Storm Prediction Center for Saturday and Saturday night (left) and Sunday PM (right).  Michigan is in the green General T-Storm Outlook for late Saturday and Saturday Night and the Slight-Moderate Risk Area  for Sunday which has been expanded to cover much of Lower Michigan.     Read the discussions for each day at the links.  For Sunday SPC says:  "EXTENT OF ANY TORNADO THREAT WILL DEPEND ON DEGREE OF BOUNDARY LAYER DESTABILIZATION. OTHERWISE…STORMS WILL LIKELY EVOLVE INTO LINES ALONG THE COLD FRONT WITH A THREAT FOR WIDESPREAD DAMAGING WIND AS THE ACTIVITY DEVELOPS."  This is a significant shot of warm and relatively humid air for mid-November with dewpoints well up into the 50s.  The showers and storms could produce heavy rain.  The European model data out this afternoon gives G.R. a total of 1.24″ of precipitation from midday Saturday thru Monday.  Most all of that is rain with a brief changeover to snow before it diminishes Monday night.  The GFS plot has 0.99″.  Either way, it's a good soaking.  The system does not bring down as much cold air and there is no secondary trough and that means less lake-effect snow than the models showed yesterday morning.  We have now gone 9 days without a single severe weather report in the U.S.   Also, GRR has a nice discussion this (Fri.) evening on the weather for the next 5 days.    GRR NWS has a few slides on the weekend storm system.
The afternoon run of the GFS model gives G.R. a high temperature of 69 on Sunday (the record high for the date is 70, set in 1953 and 1958.