Winter Weather Advisory until 7 pm
February 20th, 2014 at 1:00 am by
Bill Steffen
under
Bill's Blog
,
Weather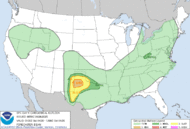 Friday AM – Very Windy (gusts to 40 mph) and cool today (low 30s much of the day) with snow showers likely…just a dusting south of Kent Co. to around 2″ in Mason County…main roads are mostly OK for the early part of the day, but snow showers could cause icy spots as the day goes on.  Some rural roads (esp. dirt/gravel roads) are quite icy.  It'll be breezy on Saturday and temperatures will gradually get colder as the week goes on.  Siberian air arrives for the 2nd half of the week and that's when we may set some low temperature records.
Earlier:   The Harrison Crib Water Intake about 3 miles east of downtown Chicago out in Lake Michigan had a gust to 70 mph last hour! – it'll be interesting to see what these strong winds do to the ice on the Great Lakes.  Main line of showers/t-showers has moved out of our area.  The cold front and the strong winds have hit the lakeshore.  The wind has just gusted to 47 mph at S. Haven and 45 mph at Benton Harbor.   Temperatures on our local weather stations at 10:50:  GVSU downtown G.R. is 43, Jenison High School 44, Hudsonville 45, GVSU Allendale 44.     Temperatures at 10 pm and change in the last hour:  Benton Harbor 43(-5), S. Haven 47 (+2, but falling now), Kalamazoo 45 (+1), Battle Creek 45 (+1), Holland 44 (+8), Grand Rapids 38 (+2).    Winds are howling in Illinois behind the cold front.  Gusts to 40-50 mph now in the Chicago area.  Gust to 75 mph at Marion, Indiana.  At 6 PM the wind at Alton IL was west at 44 mph with gusts to 63 mph, Springfield IL had a gust to 63 mph.  Gusts hit 67 mph in the St. Louis area, where there has been some building damage (these were not thunderstorm gusts, just general gusts behind the cold front).  There have been 10 tornadoes in Illinois (video at link), along with reports of 60-70 mph winds and 1″ diameter hail.  Tornado Watches are out from near Lafayette IN down to Mississippi.  A Winter Weather Advisory remains in effect until 7 pm Friday.  Everyone is above freezing,  roads were mostly just wet.  We have a brisk e-se wind.  Here's regional radar and current weather conditions in Michigan.  As the warm front approaches, temps. will start upward towards evening from south to north.  It's was really warm south of the warm front this afternoon (at 4 pm, 74 in St. Louis, 72 in Louisville, 64 in Dayton, 58 Indianapolis).  The air has to go over a couple hundred miles of snow cover, so it won't get that warm here.  The warmer air will only be around for a few hours, before the cold front arrives.  The line of showers and t-showers will push thru W. Michigan between 7:30 and 11 pm.  There were Severe T-Storm and Tornado Watches up from Indiana down to Louisiana ahead of the cold front Thursday PM.  The low pressure system is up toward Marquette.   From the Storm Prediction Center, here's current severe weather watches and meso-discussions.   As temperatures warm, all precipitation will be rain.  Rainfall amounts of 1/2-1″ of rain will cause significant ponding of water on roads.  It's now a Flood Warning for N. Indiana and the Michigan counties that border Indiana.   There will be strong winds through the day today.  We're expecting wind gusts of 40+ mph in most areas, with isolated gusts approaching 5o mph.  Colder air will pour in behind the front, sending temperatures below freezing.  Rain will change to snow and we could see 1/2 to 1 1/2″ accumulation by mid-afternoon Friday, especially northwest of G.R.  Puddles will freeze up and roads will likely get very slippery.  The Friday AM commute will be nasty, with ice spots, strong winds and possible reduced visibility in snow.  There will also likely be some schools closed on Friday (some have Friday off already for winter break).   Winds will be strong all day Friday.  We could see breaks in the clouds by late Friday.  Saturday will still be breezy, but not as windy as Friday.  The weekend looks partly sunny and cool with temperatures in the low-mid 20s.  Next week looks unseasonably cold.  The European model forecasts high temps of 13°, 4°, and 10° for next Weds., Thu., Fri. and the GFS plot has highs of 10° on Weds. and 8° on Thurs. and 4 on Fri.
Also of note…snowcover at the GRR NWS (Ford Airport) has dropped from 24″ Tues. AM to 19″ Thurs. late aftn…we'll probably lose another 3-6″ with the rain and warm air overnight…but there will still be plenty of snow…the rain will soak into the snow and it'll all freeze up before daybreak Friday.  AGAIN – there is still a significant danger of roof collapses with the snow falling into the rain – also, try and shovel out fire hydrants and drains if you can.  We'll have team coverage on the incoming storm at 10 PM on WXSP and after the Olympics on WOOD, TV-8.
Blizzard Warnings for much of Iowa and S. Minnesota…Winter Storm Warnings for Wisconsin…there's also a Blizzard Warning for Keewenaw and N. Houghton Counties in the U.P…here's the Midwest Alert Map.
SPC on the t-storm threat in S. Lower Michigan:  "FARTHER N OVER NRN PORTIONS INDIANA/OH AND LOWER MI…SVR WIND POTENTIAL DIMINISHES DUE TO PROGRESSIVELY WEAKER BUOYANCY. ALSO…LOSS OF SFC-BASED PARCELS IS EXPECTED IN RELATION TO PROGRESSIVELY DEEPER STABLE LAYER WITH NWD EXTENT…ATOP SNOW PACK. MEANWHILE…EVEN FOR THOSE STG/NEAR-SVR GUSTS THAT CAN PENETRATE TO SFC…SUBSTANTIAL TREE DAMAGE/TOPPLING ALSO BECOMES LESS PROBABLE WITH NWD EXTENT DUE TO FROZEN GROUND AND LACK OF LEAVES.."