Monday – Moderate Risk – Slight Risk for Severe up to Chicago
April 27th, 2014 at 12:10 am by
Bill Steffen
under
Bill's Blog
,
Weather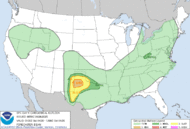 These are the Severe Weather Outlooks and (in green) General Thunderstorm Outlooks from the Storm Prediction Center.  There is a Moderate Risk Area in the Lower Mississippi Valley and the Slight Risk comes close to Chicago.  On Tuesday, there is a Slight Risk Area up into SE Michigan.
Take a look at the severe weather reports for Friday (about 80 of them).   SPC did a very good job – their Slight Risk Area really fit the severe reports.  Confirmed tornado on the ground near Washington NC.  There was one fatality.  There was a Tornado Watch out for much of N. Carolina and southern Virginia. There is a large area included in Slight Risk Area for Saturday from W. Iowa to the Rio Grande and we have a Moderate Risk for Sunday.   At this point, I don't see any severe weather in Michigan in the coming week and the best chance of a thunderstorm here would probably be Tues. PM/Night. 
Storm Team 8 will be tracking the system. Check the blog for updates from me and the astute, knowledgeable commentators who fortunately for me occasionally hold court here in my little corner of cyberspace even when I'm not here.