Severe Risk
May 6th, 2014 at 3:57 am by
Bill Steffen
under
Bill's Blog
,
Weather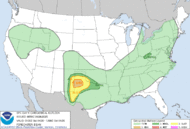 These are the Severe Risks and the Green General Thunderstorm Area Outlooks from SPC.  We'll be dry and pleasant today, with a risk of a shower or storm late Tue. night into Friday.  Some storms could be strong, but the best chance of severe is out toward the Mississippi River.  I am working Tues. to Sat. this week – yesterday I spent some time on the radio on WJQ and The Pledge, then raked up 8 bags of yard waste and cut the frost yard and most of the back.  My lawnmower started on the first pull of the year.
4 pm update:  Current temp. at the Milwaukee beach is 40.9 with a stiff east wind.  It's 49.6 at the Muskegon beach, where the lake breeze has come into the beach area, while it's 63 at the MKG airport.   Dry this PM and evening – but a warmer and wetter pattern for the next week.   Chance shower or t-shower late tonight/tomorrow – odds of a shower or t-shower during the Volksparade (2 PM Holland) about 45%.  We will probably be dry for the Kinderparade Thurs. (2 pm) and the big Muziekparade (2 pm Sat.).  The CFSv2 model is showing a relatively cool period for the Great Lakes for mid May-early June.  Look at the 216-hour morning run of the GFS – that's windy and cold AND it's snowing in northern Michigan!!  Look at the difference in the GFS from week one to week 2.   The European is not as cool, with temps. still reaching the low 60s a week from tomorrow.  The European has rain later tonight, Thurs. night into Fri. AM and next Monday night late into Tues.
Also, 6.3 magnitude earthquake in Thailand – look at how it cracked this road.  Monday was hot in the South and cool in the North.   Snow in Calgary, Canada.  Cool mammatus picture.