Severe Risk Monday PM to Weds.
June 2nd, 2014 at 11:37 am by
Bill Steffen
under
Bill's Blog
,
Weather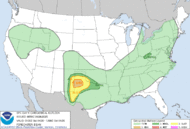 Tues. AM Update – SPC says:  "A SUBSTANTIAL/WIDESRPEAD SEVERE WEATHER EVENT IS FORECAST THIS PERIOD."
These are the SPC Severe Weather Risk Areas for today (Tues.)his PM and Wednesday.  We are in the General (green color) thunderstorm outlook for Sunday night and Monday.  It was a close call for severe in Lower Michigan Monday PM – we had lots of gusts to 40-55 mph. The Storm Prediction Center is most concerned about the Tues. PM to Weds. PM storms that are expected across IL-IN-OH (remember I've talked about a dominant storm track just south of Michigan).  You can see a large "Moderate Risk" tomorrow from Nebraska to Illinois.   SPC says (for Tues./Weds.): "POTENTIAL EXISTS FOR SIGNIFICANT SEVERE EVENTS TUESDAY WITH A THREAT FOR VERY LARGE HAIL…TORNADOES AND WIDESPREAD DAMAGING WIND."  The morning run of the NAM model keeps Michigan in the "cold" air with significant overrunning rain and the severe storms across IL/IN/OH.
From Joe Bastardi:  "Biggest severe weather day since April likely today (Tue.). Tornado total so far less than 25% normal.  2.37″ rain in Minneapolis.  4.2 magnitude e-quake in Los Angeles.  Kansas mammatus at sunset.   Here's storm reports from Sunday.
Check out the GRR NWS discussion and the latest surface map. Check out Regional radar to see the rain across the Great Lakes. Here's GRR radar, local lightning data, meso-discussions and current watches from SPC and a satellite loop. Here's current Michigan temperatures, National lightning data and the latest discussion from GRR NWS. Here's National Storm Reports for today and yesterday. Here's a live pic. of the beach at Grand Haven, Here's the latest Grand Rapids NWS discussion.