Thursday
June 19th, 2014 at 3:32 am by
Bill Steffen
under
Bill's Blog
,
Weather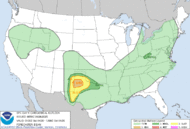 There will be more tornadoes and severe thunderstorms in the plains today (see outlook from SPC on the left.  SW Lower Michigan is in the green General Thunderstorm Outlook.  I think most of our area stays dry today, with the best chance of a shower down toward Berrien Co. and south into Illinois and central Indiana.   Grand Rapids and Muskegon both set daily rainfall records on Wednesday.  Muskegon received 3.93″, and GR received 2.08″.  About 45,000 customers lost power in yesterday's storms in Michigan, and over 125,000 in the U.S. with about 40% of those in Ohio.  There was a gust to 81 mph at Adrian MI, 77 mph at Aurora IL.  There 29 reported tornadoes in the U.S., though 15 were reported in one county in South Dakota and I bet many of those are duplicates.  Sisseton SD at 4.27″ of rain.  Andrews AFB near Washington D.C. had a gust to 78 mph.  Governor deploys 100 state National Guard soldiers and equipment to Wessington Springs, S.D. after tornado on Weds.  This is cool – here's the storm viewed from the Willis (Sears) Tower in Chicago.  Look at the snow in Glacier Natl. Park.
From Anthony Sagliani at Accu-Weather:  "Mid-June model consensus points to weak (~+0.8C) El Niño peaking Nov/Dec."   Remember I said that weak El Nino's can bring cold or snowy winters to the Great Lakes.  We had a very cold winter in 1976-77.  Going into the winter of 1977-78 we had a weak El Nino – that was the winter of the Blizzard of '78, followed by the coldest February and 5th coldest March ever in G.R.  If you see the media hype "El Nino!" remember that El Ninos can bring very different weather patterns, related to the location and strength of the warmer water along the Equator.  Hopefully, this El Nino can put a dent into the California drought.
The morning run of the NAM has a wet and cool day tomorrow (Fri.) with 0.85″ of rain for G.R., mainly in the morning and temperatures much of the day only in the mid 60s.   The GFS plot has a lower 0.22″ of rain for G.R. on Friday and the European model goes bonkers with rain…giving G.R. 1.02″ Friday and a total of 4.38″ in the next week with significant rain Sunday, Monday and Tuesday.   While we could see rain/showers, there is a the possibility of thunderstorms, though severe weather is unlikely.  Most of the weekend looks dry, though an isolated shower or t-shower could spring up (mainly afternoon).  There will be light mainly east or southeast winds and with a west lake-breeze developing, there could be enough surface air convergence to pop a few showers.  As I write this, I'm waiting for the rest of the model data coming in early-mid afternoon.
Rainfall last two weeks…you can see the 5-6″ around Norton Shores.  3.8″ of rain fell in Dubuque IA last night.  9 in. of snowfall in Alta, Utah Tues; their third highest one-day snowfall total in June ever.