Severe Risk This Weekend
July 11th, 2014 at 1:28 am by
Bill Steffen
under
Bill's Blog
,
Weather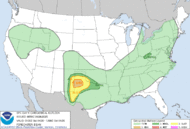 These are the Risk areas from the Storm Prediction Center. Today we'll be dry and pleasant.  We'll have a chance of showers and storms over the weekend into early next week.   Here's the SPC severe weather discussions for today, tomorrow and Tuesday.  As I write this (10:10 am Fri.), the risk for Saturday (evening/night) is basically along and south of I-94.  SPC says:  "SEVERE HAIL/WIND POTENTIAL DEVELOPING EAST FROM THE MO RIVER VALLEY TO THE MS RIVER THROUGH THE EVENING. SOME OF THESE STORMS MAY PERSIST EAST INTO LOWER MI".  For Sunday the Slight Risk area as I write this is south of us in IN and OH.
Check out the GRR NWS discussion and the latest surface map. Check out Regional radar to see the rain across the Great Lakes. Here's GRR radar, local lightning data, meso-discussions and current watches from SPC and a satellite loop. Here's current Michigan temperatures, National lightning data and the latest discussion from Milwaukee NWS. Here's National Storm Reports for today and yesterday. Here's a live pic. of the beach at Grand Haven,
The overnight run of the NAM (car.) gives G.R. 0.29″ Sat. evening/night and Kalamazoo 0.50″.  The GFS-plot has 0.41″ Saturday, 0.06″ Sat. Night and 0.10″ Sun. PM with highs in the mid 60s for Tues.   I'm too tired to wait up for the European.   Also, dangerous typhoon Rammasum heading toward the northern Philippines…Lakselv, Norway, located above the Arctic Circle, hit a temperature of 91 F (32.8 C). The normal high is 62 F…Latest GFS ensemble day 4-9 shows coldest air mass in N Hemisphere relative to averages over Central US…Norfolk Tides Baseball Stadium completely flooded.   Waterspouts over Lake Erie.   Building a snowman in Minnesota in July!