Severe Weather Outlooks – Moderate Risk
July 25th, 2014 at 1:30 am by
Bill Steffen
under
Bill's Blog
,
Weather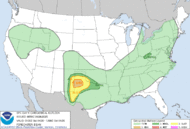 10 am Sunday – The Storm Prediction Center has expanded the Slight Risk Area, which now covers much of Lower Michigan, essentially south of a line from Muskegon to Houghton Lake to north of Oscoda.   These are the severe weather outlooks for today, tomorrow and Tuesday.  There is a Moderate Risk this PM for parts of E. KY and WV.  The Saturday Slight Risk Area comes up almost to the Michigan border, but the real action today will be across Central Illinois and Indiana.  Hail will be the main threat with the bigger storms initially, as well as gusty winds.  For Lower Michigan SPC says:  ".NRN INDIANA/SE LOWER MI/NRN OH TODAY INTO PA TONIGHT… BROKEN BANDS OF THUNDERSTORMS ARE EXPECTED TO FORM BY ABOUT MIDDAY NEAR THE SURFACE LOW AND ALONG THE COLD FRONT…FROM ROUGHLY CHICAGO TO NW LOWER MI. THESE STORMS WILL SUBSEQUENTLY MOVE ESEWD THROUGH THE AFTERNOON WITH AN ATTENDANT RISK FOR LARGE HAIL AND DAMAGING WINDS…GIVEN SUFFICIENT DEEP-LAYER SHEAR AND BUOYANCY. LINES/ CLUSTERS OF STORMS WILL CONTINUE EWD/ESEWD ACROSS PA LATER THIS EVENING INTO TONIGHT…WITH A CONTINUING RISK FOR DAMAGING WINDS.."   There is no mention here of tornadoes for our area, though they are certainly possible farther SE into Ohio, Kentucky and W. Virginia.  I'm off to church…I'll be into the Tracking Center early this afternoon (or earlier if need be), but I probably won't update the blog until early-mid afternoon.  Check out the links here and in the thread above.   The GFS has a lot of days with highs in the 70s and low 80s, but no 90° through Aug. 11.  The European's warmest out to 10-days is low-mid 80s on Aug. 4th.   So, we'll start August with slightly below average temperatures.
Here's SPC watches, mesoscale discussions and storm reports.  Here's regional radar, so you can watch the storms develop and move east.
Another chilly AM in Michigan early Friday.  The low temperature of 53° in G.R. was 10 degreees cooler than the average of 63°.   Other lows:  52° Muskegon, 51° Kalamazoo Airport, 50° Holland, 49° Marshall, S. Haven, Sparta, Watervliet, 48° Belding, Fennville, Hastings, 47° Reed City, Big Rapids, 46° Benton Harbor, Hopkins, 45° Baldwin, 44° Cadillac, Kalamazoo Nature Center, 43° Lake City, 42° Houghton Lake, Pellston, 40° Grayling, Vanderbilt, 39° Leota (Clare Co.), 38° Roscommon.   Much of the country woke up to cooler than average temperatures.  The lowest was 27° in Stanley, Idaho.
Antarctic sea ice extent sets another daily record maximum…we've never seen this much ice extent in Antarctica on any July 25.   Arctic sea ice extent highest in 10 years for the date.  NOAA: 28,504 Low Max Records Set in U.S. in Last 365 Days.  Phoenix, AZ officially hit 116ºF Thursday, marking the hottest day of 2014 and breaking the daily record of 114º.   KA-BOOM!!  Lightning from a plane coming into Denver.