Severe Risk – Fri. AM update
August 21st, 2014 at 2:34 am by
Bill Steffen
under
Bill's Blog
,
Weather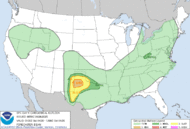 The overnight storms so far (2 am) have been moving thru Chicago and NW Indiana.  Some minor wind damage at Peotone IL and Noblesville, IN.  We are in the General T-Storm Outlook.  I haven't had much time to look at weather.
Here's SPC watches, mesoscale discussions and storm reports. Here's regional radar, so you can watch the storms develop and move east.   Here's Storm Reports from Weds., including EF0 tornado in Michigan.
Here's the GRR NWS forecast discussion.
Also, relatively (for them) small earthquake in California…lightning above Busch Field in St. Louis…thunderstorm moving into Ferguson MO…COOL TIME-LAPSE of the storms coming into St. Louis.  Tropical Storm may develop and head through the Caribbean toward the U.S. and Gulf of Mexico.