Updated Severe Weather Outlooks
September 1st, 2014 at 11:36 pm by
Bill Steffen
under
Bill's Blog
,
Weather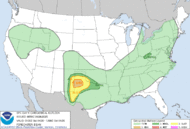 The Day 3 outlook for Thurs. shows a Slight Risk Area over much of Wisconsin and the U.P.  We'll have a chance of a t-storm from Weds. night into early Friday.  Gusty winds will be the primary threat.  Th maps here for severe risk for Day 1 (on the left), Day 2 (in the middle) and Day 3 (on the right) should update automatically as SPC adjusts their severe weather forecasts.  There was wind damage in Mt. Pleasant on Monday.  Here's severe reports and rainfall reports from N. Lower Michigan and Southeast Michigan.  As of late morning, there are some showers in N. Indiana and another areas of showers and storms in far NW Illinois that may clip far SW Michigan.  I'll update this afternoon/evening.   Sullivan, IN, reports 3.65″ of rain as downpours continue for Midwest.
Monday night model data:  The European gives G.R. 0.69″ of rain from Thurs. night into Fri. evening.  We'd be dry and cooler for the coming weekend with highs down in the low 70s.  The NAM gives G.R. 0.22″ Weds. night and 0.21′" Thurs. PM into early Friday – with a high of 89.3 on Thurs. (probably our last shot at 90).  It's also dry and pleasant for the coming weekend.   The GFS plot has just 0.14″ (but looks underdone) with low-mid 80s Thurs., low 70s Sat. and mid 70s Sunday.  Plan on a nice weekend.
Check out the GRR NWS discussion and the latest surface map. Check out Regional radar to see the rain across the Great Lakes. Here's GRR radar, local lightning data, meso-discussions and current watches from SPC and a satellite loop. Here's current Michigan temperatures, National lightning data and the latest discussion from GRR NWS. Here's National Storm Reports for today and yesterday. Here's a live pic. of the beach at Grand Haven, Here's the latest Grand Rapids NWS discussion.