Slight Risk Area for This (Friday PM/Evening)
September 4th, 2014 at 12:00 am by
Bill Steffen
under
Bill's Blog
,
Weather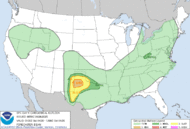 Here's the Day 1 and  Day 2 and outlooks from the Storm Prediction Center.    The Slight Risk Area for today includes parts of S. and SE Michigan, N and NW. Ohio, N. Indiana and Central Illinois back SW to St. Louis.  The threats are wind damage and isolated marginal hail (not tornadoes).   The Slight Risk Area includes everyone east of a line from New Buffalo to Lansing to near Saginaw.  SPC says:  " LWR MI THIS AFTN INTO TNGT… SET-UP APPEARS FAVORABLE FOR THE DEVELOPMENT OF LINES/SMALL CLUSTERS OF MAINLY MULTICELL STORMS FROM PARTS OF THE MID-MS VLY ENE INTO LWR MI AND THE LWR GRT LKS LATER TODAY INTO TNGT AS SFC HEATING FURTHER DESTABILIZES CORRIDOR OF 1.75+ INCH PW ALONG/AHEAD OF COLD FRONT. EXTRAPOLATION OF MORNING RAOB DATA SUGGESTS THAT RESIDUAL EML/STEEP MID-LVL LAPSE RATE PLUME SPREADING ENE ON NRN SIDE OF UPR RIDGE WILL OVERLIE SRN LWR MI/NRN IND AND WRN/NRN OH THIS AFTN. ONCE CONVECTIVE TEMPS HAVE BEEN REACHED…FRONTAL UPLIFT AND…IN CNTRL LWR MI…UPLIFT ALONG PRE-FRONTAL OUTFLOW BOUNDARY…SHOULD OVERCOME CINH TO FOSTER STRONG STORM DEVELOPMENT. DEVELOPMENT IN MO/IL ALSO MAY BE ENCOURAGED BY THE APPROACH OF NEB/IA UPR IMPULSE. DEEP…LARGELY UNIDIRECTIONAL WSW FLOW WILL MINIMIZE CONVERGENCE. BUT STORMS THAT DO FORM WILL POSE A CONDITIONAL RISK FOR DMGG WIND AND POSSIBLY SVR HAIL GIVEN VERY WARM/HUMID NEAR-SFC ENVIRONMENT…EML…AND 30-35 KT 700-500 MB FLOW THAT COULD YIELD SMALL BOWS/ARCING LINE SEGMENTS. ALTHOUGH THE STRONGEST STORMS SHOULD OCCUR BEFORE MID-LATE EVE…STRONG ACTIVITY COULD PERSIST INTO LATE TNGT/EARLY SAT OVER OH AND THE LWR GRT LKS.."
At Noon the dewpoints in W. Michigan are mainly between 71 and 73.  The Ford Airport is reading 76, but that's a couple degrees too high. The sun is out south of Kent Co., where the best bet for strong storms will occur.  Temps. range from 87 at Kalamazoo to 83 at the Ford Airport in G.R. to 79 in downtown G.R. to 74 at the Lake Michigan shore.  The cool front is thru Milwaukee, where the dewpoint has dropped to 69.  The dewpoint is down to 55 at Madison.  Temperatures at noon were only in the 50s, so cooler and less humid air is definitely on the way for the weekend and a shot of still cooler air will be here in a week (11th and 12th).
HEAVY RAINFALL LAST NIGHT:  6.12″ at Interlochen in just 12 hours, 4.43″ Mancelona, 3.73″ at The Bear golf course in Traverse City, 3.74″ Benzonia, 2.70″ Wellston (near Manistee), 2.08″ S. Haven, 1.24″ Hopkins – up to 3″ in Muskegon Co. (much of which fell in an hour).
Here's regional radar to see the rain across the Great Lakes. Here's GRR radar, local lightning data, meso-discussions and current watches from SPC and a satellite loop. Here's current Michigan temperatures, National lightning data and the latest discussion from GRR NWS. Here's National Storm Reports for today and yesterday. Here's a live pic. of the beach at Grand Haven, Here's the latest Grand Rapids NWS discussion.